With Christmas just around the corner, the hustle and bustle of gift-giving has begun! When looking for presents, there's usually one main question that comes to mind: what do they really want? For those with a stutter or stammer, we've got an idea as to what they might hope to see under the tree on Christmas morning! A SpeechEasy speech device is the perfect gift for those in need of stuttering assistance. Want a walkthrough of our available devices? Read on to learn more about the gift that keeps on giving!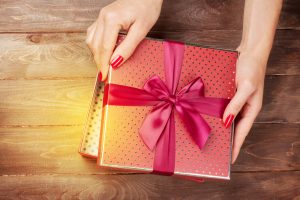 Comfort Fit
The Comfort Fit is ideal for those looking for a way to comfortably enjoy our stuttering device without an in-canal fit. This speech device helps deliver the sound of the wearer's voice at a slight time delay and a different pitch. This effect, known as the "choral effect," can result in a reduced or even eliminated stutter when speaking or singing. Our Comfort Fit model fits snugly and comfortably behind the ear, with a wire going into the ear to provide maximized results. The Comfort Fit follows the natural sound passage along the canal, helping wearers with their hearing and stutter. SpeechEasy's Comfort Fit also reduces the background noise, making it easier to focus on their speech.
Completely In Canal
The Completely In Canal device is ideal for those who are looking for a discreet stuttering device that provides them with the same benefits as a comfort fit model. Being the smallest fluency device available, this speech device fits within the ear canal and is discreet thanks to the skin-toned exterior.
In The Canal
The difference between the In the Canal and Completely In Canal is the length of the stem that produces the time delay and pitch change occurs. SpeechEasy's In The Canal device is ideal for those who might need extra assistance in adjusting the volume control.
Behind The Ear
SpeechEasy's Behind The Ear speech device is ideal for those with dexterity issues, such as arthritis, poor mobility, stiffness, or general pain in the hands. This device is very durable, as most of the device is located externally.
SpeechEasy | Speech Device
If you or a loved one is looking for a new speech device that will improve stuttering assistance, SpeechEasy is just the gift that you've been searching for this holiday season. Not only will you be getting your new speech device, but you'll also be receiving the following amenities:
A professional Provider support network
A helpful workbook guide and follow-up
Quality product accessories
Trial period and manufacturer warranty
For more information on SpeechEasy and how our speech devices work to help you or your loved ones with a stutter, visit our website or contact us today.