If you find yourself worried about the speech and/or language development of a loved one's child, it can be hard to voice those concerns for fear of upsetting a parent. However, it is in the child's best interest to have any speech/language issues identified and treated as early as possible. Here is what you should do to respectfully raise those concerns: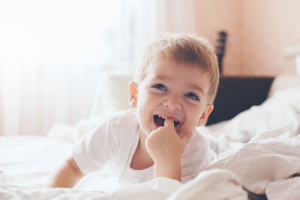 Learn Developmental Milestones
Refer to a list of speech and language milestones by age before voicing any concerns. You may not realize that your expectations are higher than they should be, or you may even confirm your concerns. Share these milestones with the parent, especially if the child is not doing what is expected at that age.
Not All Children Are The Same
At 12 months, one child may be speaking 10 or more words, while another child may only say one word. Not every child has the same skills at the same age, so this variability is normal. 
Be Sensitive
Try phrasing your concern ask a question rather than an outright statement. "What do you think of Sam's speech? Has he been using any new words lately?" Follow by saying something like "I saw a story about children's speech and language development…" and then introduce your concern. Share your family history of speech and language disorders, especially if you are speaking about a relative. Some disorders have a strong genetic component.
Encourage Professional Assistance
Encourage the parent to set up an appointment with the child's doctor to discuss the concerns. If concerns are confirmed, the doctor will make a referral for a speech and language evaluation. A speech-language pathologist can also determine whether there is an issue or not and if so, it can be treated in a timely manner. 
Provide Resources
If the child is less than three years old, parents can access their state's early intervention program for a free evaluation. If the child is 3 years or older, parents can contact a local elementary school to have their child evaluated, even if the child does not attend the school. Search the ASHA ProFind database for the assistance of a private speech-language pathologist.
SpeechEasy
SpeechEasy is a combination of proven technology and techniques which can be used to reduce stuttering. Worn in one ear and similar in appearance to a hearing aid, SpeechEasy has helped thousands increase their ability to communicate effectively and confidently. The program that comes with every SpeechEasy is supported by a team of fluency professionals who truly care about your success. Contact us today!